On April 19, Train 6847 departed from Nanping Station of Xinshuo Railway, traveled eastward, and passed Shuohuang (Shuozhou-Huanghua) Railway, Huangda (Huanghua-Dajiawa) Railway, Yiyang Railway and Dalailong Railway before finally arriving at Longkou Port Station in Shandong Province. This marked that following Huanghua Port and Tianjin Port, Longkou Port became the third destination for the west-to-east coal transport route.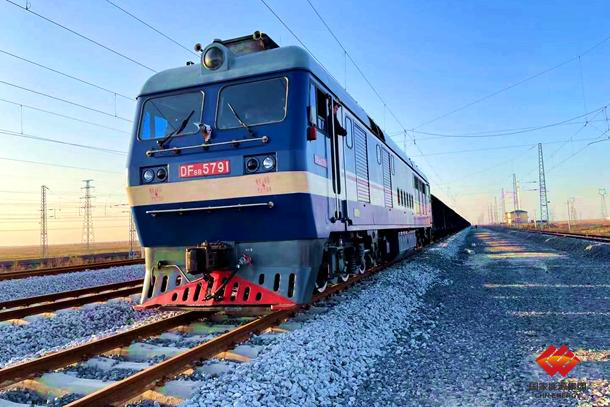 The first train running along the coal transport line connecting Huangda Railway to Longkou Port.
Since the beginning of this year, the Shuohuang Railway Company has been doing extensive researches of the layout of the lower part of the Huangda Railway and prioritized the opening of the rail passage connecting the Huangda Railway, Dalailong Railway and Longkou Port Station. With close collaboration from its coal-trading arms, the company conducted talks with Dalailong Railway, Yiyang Railway and the Longkou Port Group on potential cooperation and held meetings to solve the problems hindering transportation and marketing, which resulted in cooperation intention reached between parties involved. Next, the company will strengthen the follow-up transportation services and normalize the two-way transportation as soon as possible, so as to increase the profits from the company's integrated operation.
With the opening of the line connecting to Longkou Port, a transportation layout featuring a railway stretches to three ports has formed. Thus, the coal produced in Shaanxi Province and Inner Mongolia Autonomous Region can be transported to the coastal areas in eastern Shandong in a greener and more economical way, so as to greatly relieve the pressure on Huanghua Port and Tianjin Port. Meanwhile, the line can also transport the oil, gas and mineral products from the Yellow River Delta in the east to central and western China in the most cost effective manner.
Located in Yantai City, Shandong Province, Longkou Port is an important part of the Yantai Port and a vital base for China's strategy of developing the west region. Longkou Port is mainly engaged in five businesses including bulk cargo, liquid chemicals, containers, ro-ro passenger shipping, and integrated logistics services. Boasting 30 berths in the port area, Longkou Port is the closest to central and northwestern Shandong among ports with 150,000-ton wharfs, and it is also an integral part of the transportation network of the Bohai Bay.