Author:
By Gao Zhongrong and Zhang Guoqiang
Source:
Jungar Energy
Pubdate:
2021-05-19
Font size:【L M S】
On May 9, the dragline of Zhungeer Energy Group, the only of its kind in Asia, completed 44,000 cubic meters of overburden removal, a record high, in a single-shift operation, and 106,000 cubic meters daily, reporting a single-day record high. The month-long figure in April was nearly 1.93 million cubic meters, the highest in three years.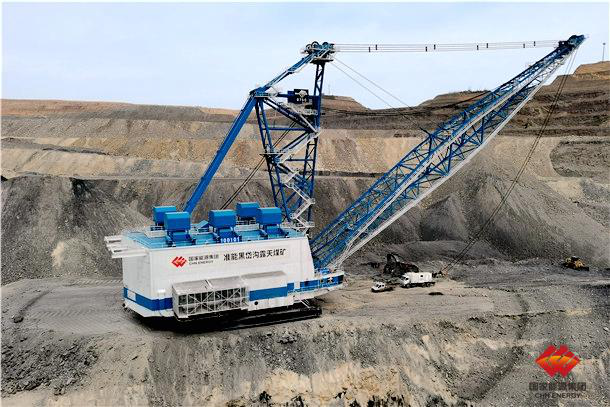 The dragline of Zhungeer Energy changes the bucket.
Starting in March, the company took bold incentive measures to boost equipment teams' productivity. Under the incentive program, the output of each device per shift is recorded to calculate their corresponding share in total output. As for the allocation of monthly bonus, 60 percent are granted in accordance with previous allocation methods, and the remaining 40 percent are based on the productivity. The incentive program also is aimed to improve employees' awareness of cost management and performance-based remuneration.
To improve the productivity of the dragline and accelerate the pace of exposing coal, the company uses the time lag after the explosion and uses hydraulic backhoes and WK55 electric shovels to brush the slab entries so as to reduce wastage of the dragline and unloading ropes and save time to the utmost extent. In the meantime, grooves are made at the points of right angles in the north and south with the WK55 electric shovels to avoid frequent movements and repetition in dumping of the dragline. The efforts improved the productivity of the dragline, lowered the production costs of dragline, electric shovel and bulldozer, and reduced the loss of raw coals.
In addition, the company improved on-site management and optimized the work face for the dragline. It avoided unnecessary machine shutdown and movement and increased the operation period through better coordination with the maintenance center. The focus of maintenance was set on the guy rope for the shovel, the rotatory vertical shaft and the chassis. Drivers for day shifts focus on day-to-day inspection and maintenance, creating sound operation conditions for night shifts, reducing non-operational hours and improving the actual use of the device.