Guohua (Indonesia) South Sumatra Power Company Limited (PT. GH EMM Indonesia), a joint venture between Guohua Power Company and PT Energi Musi Makmur, took home two awards from the Asian Power Awards on December 9: "Environmental Upgrade of the Year – Indonesia" and "Independent Power Producer of the Year – Indonesia," demonstrating Guohua Power's strength in overseas electric power generation, transmission and distribution projects in the Asia-Pacific region.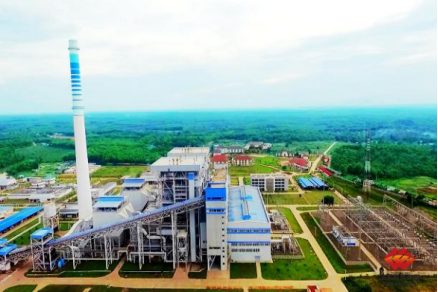 A bird's eye view of PT. GH EMM Indonesia.
Dubbed the Oscars of Asia's power industry, the Asian Power Awards are judged by a panel of experts, executives and consultants from the power industry of Asian countries. The awards aim to select ground-breaking and trailblazing projects in the power industry in Asia by their overall performance and their contributions to the power industry.
More than 170 companies from China, Australia, Japan, South Korea, Singapore, Malaysia, India, Thailand and other major countries and regions in the Asia-Pacific participated in this contest. PT. GH EMM Indonesia began to prepa re for it in August 2020. The application material included the history of Guohua Power's development in Indonesia, its achievements in reliability, economic benefit and environmental protection in recent years, its improvement of management model, Its development potential, its performance in corporate social responsibility, and the honorary awards it has won over the years. With intense competition, PT. GH EMM Indonesia impressed all the members of the panel and won the two extremely valuable awards.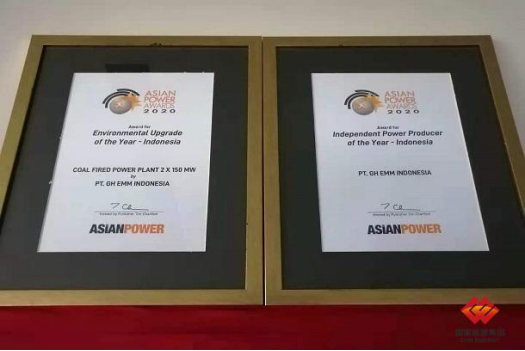 PT. GH EMM Indonesia won the Asian Power Awards of "Environmental Upgrade of the Year – Indonesia" (left) and "Independent Power Producer of the Year – Indonesia" (right).
Since the beginning of its business operation, PT. GH EMM Indonesia has created several records in Indonesia's power industry for its outstanding operation and remarkable performance in production safety and environmental protection. Its efforts have eased the tension in local power supply and made an outstanding contribution to the development of Indonesia's power industry. Especially since the outbreak of the COVID-19 pandemic, PT. GH EMM Indonesia has firmly implemented the requirements of the group company on coordinating pandemic containment with production resumption. It has seized the initiative to shoulder the responsibility in containing the virus and ensuring production safety, workers' health and stable supply, providing strong support for the region's power supply and people's living. Besides, PT. GH EMM Indonesia attaches high importance to China-Indonesia cultural integration. So far, it has offered more than 2,000 job opportunities to the local people and invested more than 1 million yuan in public welfare undertakings to improve the lives of the local people and promote local economic development, which has been highly commended by the people from all walks of life in Indonesia.